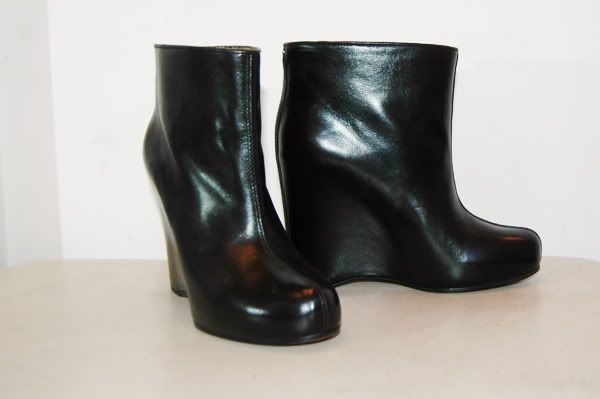 Boots
- The months may be moving along, but there's still snow on the ground (sorry!) and the thought of wearing a peep-toe practically gives us pneumonia, so its still appropriate to be shopping in the boot category. We're not saying that you have to be completely practical though - and that's why we love these
Maison Martin Margiela
silhouetted ankle boots (above, size 36)
SOLD
, and these classic brown suede
Fiorentini + Baker
triple buckle stompers (below, size 37)
SOLD
.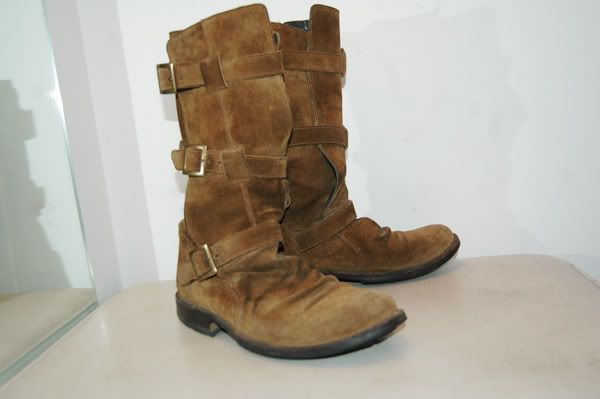 Something Black
- There are still a couple of cold weeks left before the thoughts of prints or pastels or short sleeves should cross your mind. We would rather opt for this gorgeous black
Balenciaga
dress with swinging ruffled hem (left). The other piece is something that everyone should have in their closet - a
cashmere asymmetrical wrap sweater
by
Michael Kors
- while one side flaunts a modest drape, the other hangs like a scarf down to your ankles, giving you infinite options for wear.
BOTH PIECES HAVE BEEN SOLD.
Blazer
- This is a look that is never tired, and always gives you the appearance of being held together. Starting off this season's aresenal of blazers are the tuxedo collar version by
Dsquared2
(left) and 3-pocketed charcoal wool by
Rag & Bone
(right).
D2 SOLD. Rag & Bone SOLD.
Crisp White Shirt
- At Eva Gentry Consignment, we can't settle with the expected, so we offer your two (there's more in shop) options for updating this classic. To the left is a tunic length shirtdress by the ever so popular
BOY by Band of Outsiders
. To the right is a perfectly pirate-y deconstructed shirt by
Vivienne Westwood
. Westwood is
SOLD.
Pleated Skirt
- and not the schoolgirl variety. Black by
Balenciaga
, and bronze by
Diane Von Furstenberg (SOLD)
.