Here at Eva Gentry Consignment we have a very strict policy of not judging others - especially based upon sartorial choices. With that in mind we'd like to present a selection of some items in the store which are made of animal fur. Yes, yes, we know, and we are certainly

pro

-animal rights, but we suppose that if one needs fur it's best to get it via a consignment store, thus

recycling

and

reusing

to best effect.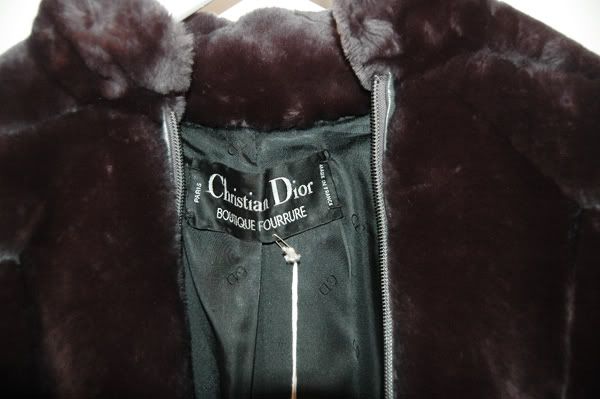 On the left is a bomber style
Gucci
rabbit number (
SOLD
) that has a little bit of a Joan Crawford/Mildred Pierce vibe about it and on the right is a vintage
Christian Dior
shearling in the most unusual purple-grey coloring. (SOLD)
For the more future-esque lady there's the shiny nylon
Escada
(SOLD)on the right with just enough fox fur around the collar to keep that cold winter draft out. And for those who like to wear little more than a t-shirt under their winter wear we'd suggest the
Tahari
(
SOLD
) wool/long hair shearling double layer extravaganza on the right; we promise, anything more than a T under this and you'll be sweating.
Above we have a couple of
vintage
offerings. For those who like just a bit of trim we'd suggest the wool jacket on the left which features just a whisp of natural mink around the collar. And for those that want to be swaddled by a mass of fur we'd suggest the red fox swing coat on the right, which worn over a jersey Halston dress or some such garment might make us believe we were seeing Bianca Jagger at 54 all over again! (SOLD)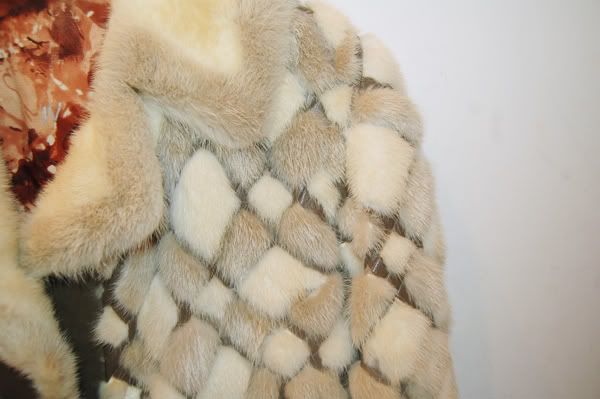 Does anyone remember that Marc Jacobs Fall/Winter Collection from 2006, the one where he did chevron pieced mink coats? Well, we think his
inspiration
may have started with this amazing vintage pieced white and tan mink jacket. And if you feel like going all-out throw this
Hogan
white goat bag over your shoulder! Too much? Marc wouldn't think so...
And just when you thought we'd forgotten your extremities, we'd like to present these fur trimmed
Max Mara
gloves; they're a rich, soft Hershey chocolate brown with an assymetric shearling cuff! (SOLD) (SOLD) (SOLD)